What do you wear when you ride your bike? This is a question that can cause anxiety for everyone from diehard cyclists to first-time riders.
Performance or Comfort?
I was asked to share my musings on cycling apparel based on my background in trail building. Maybe because I've been known to have strong opinions on the subject in the past, or maybe because of my willingness to mix plaid and camo? The request came from a friend who prefers to ride naked with a spare tube taped under her seat, with only a bottle of water and her sports watch to track her ride. She's a competitor and a minimalist and doesn't want excessive clothing flapping in the breeze when she's busy winning races. I, on the other hand, am pretty sure that my choice of clothing will never be a factor in my performance, racing or otherwise. I've always worn what's comfortable and haven't given it much thought beyond that. Generally, I tend to ride in baggy mountain biking shorts and a wicking mountain biking shirt. Call it "trail casual." I wouldn't be caught dead wearing anything that I wouldn't wear to the brewpub after my ride.
Choices, Choices…
These days there are more types of cycling-specific clothing than ever. Take a stroll through the website of a cycling apparel brand, and it can be a bit dizzying. No question, it's great there are so many options for so many types of riders. Even bikepackers and gravel riders have niche clothing now. Like any type of cycling gear, a lot of the apparel that's out there offers genuine technical advantages, but a lot of it's marketing. I'd encourage people, especially riders who are new to mountain biking, to not buy into the hype to the point of feeling overwhelmed by the apparel you "need." At the end of the day, for most riders the best gear you can wear is simply what's comfortable for you.
Lycra Fear
Another perspective on clothing choice is the vibe that your clothing gives off. A pair of forest green enduro shorts and a technical, snap front, button down shirt tell people you're low-key. You might put up a good fight on the climb, but you're probably just out for fun. There's also the bonus of being able to wear most of your cycling gear when you aren't riding because it isn't necessarily sport-specific. Going full Lycra, on the other hand, is certainly functional for riding hard, but it's all business, and you aren't going to be running a chainsaw with your race kit on. Those splinters might leave a mark… For some hardcore riders, a skin-tight kit is like an Olympic skier's speed suit. For the rest of us, it might not be quite as flattering.
Who Cares What You Wear?
I've come to terms with the fact that I'll never be an elite class athlete, but I can also appreciate the need for legitimate athletic clothing and a more minimalist approach for the sake of competition. I still steer clear of Lycra even on road rides, but when it comes right down to it, for as much fun as I poke at the skintight crowd, chances are they're probably a heck of a lot faster than me and more dedicated to training than I'll ever be. Whether you gravitate more towards new school brands like Fox, Dakine and Club Ride or stick to the sleek standards like Craft and Pearl Izumi, it all comes down to one thing: riding your bike and having fun. Word on the street is that I might even be getting a sleek new One Track Mind kit at some point. Maybe I'll give Lycra a try after all… Wear what you want and enjoy the ride!
Catch up on what you missed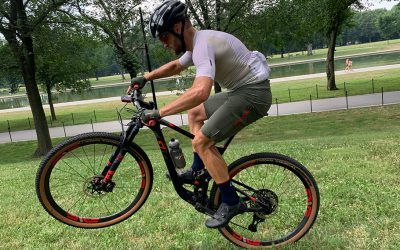 Manuals are one of the most exciting, fun, and useful techniques in mountain biking. Not only does a manual look cool and make you feel awesome, but it can be a game-changer for navigating challenging trail features. Riding over a log or launching off a ledge or a...